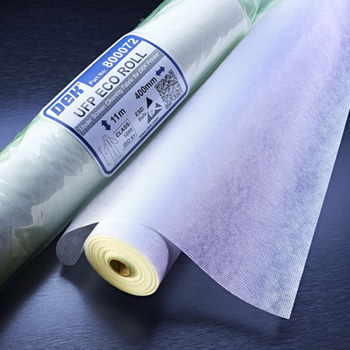 800071 DEK Stencil Roll, 515mm Ultra-Fine Pitch Eco Under Screen Clean Rolls, 11m length (for DEK printers)




In Stock: 110 ea




Online Price: $12.80/ea

Add to order/quote



800072 DEK Stencil Roll, 400mm Ultra-Fine Pitch Eco Under Screen Clean Rolls, 11m length (for DEK printers)




In Stock: 227 ea




Online Price: $11.60/ea

Add to order/quote



800074 DEK Stencil Roll, 443mm Ultra-Fine Pitch Eco Under Screen Clean Rolls, 12m length (for MPM printers)




In Stock: 125 ea




Online Price: $13.30/ea

Add to order/quote


Ultra Fine Pitch Eco Rolls

UFP Eco Rolls
Leveraging the benefits of hydrophilic fabric and a unique 3D structure, DEK's UFP Eco Rolls are enabling new levels of cleaning efficiency. Unlike paper-based cleaning rolls, DEK UFP Eco Rolls quickly wick cleaning solution across the entirety of the roll, ensuring fast and complete coverage for maximum cleaning action and reduced solvent consumption.
With a 3D structure that has superb porosity and recessed pockets, UFP Eco Rolls allow the cleaning system vacuum to pull material out of the apertures and the unique fabric architecture traps the material away from the stencil underside.
Today's fine pitch dimensions demand more advanced cleaning materials. UFP Eco Rolls deliver.
Material : 100% polypropylene hydrophilic fibre (No bleach used)
Manufacturing mode : Thermal bonding (No chemicals used)
Fabric weight : 50g/m²
Thickness : 0.25mm
Surface resistance :<10¹¹ Ω (NSI ESD STM S11.11)
Tensile strength : 95N/50mm, machine direction
30N/50mm, transverse direction
Absorption capacity : 540% rapid absorption
Core : 100% virgin KRAFT paper (Green coloured)
Packaging : ESD safe